A Commercial light table for standard or professional use is built with strength and quality to last. This is thetype of light tablefor all your drafting and drawing needs. These light tables serve many purposes, some include: x-ray and other film inspections, drafting, drawing, tracing, and other inspection purposes on a lit area.
Light Table Features
These tables may be customized to help fit work environments and business needs. Many are adjustable by easy hydraulic lift, or tilt features also. The lift adjustable light table is good for height adjustment to suit the user's need. And the tilt is good for use during execution of a drawing project; this is a more comfortable option to help get work done with ease during any project. The light table's tilt feature is also used for showing a project to clients and co-workers.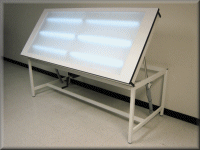 Drafting and Design: Light Table for Drawing Plans
Precise execution for important projects. Clear light and a flat, sturdy, large surface area is a good choice for drafting and design. These light tables serve many business purposes and are helpful in completing various tasks. Drafters find these large and custom tables perfect for blueprint review, revisions, and designs that need special attention to detail. The light table for drawing plans is good for construction services of all types. Architects designing their initial project layout design and floor plan; utility designers using the drafting light table for details; and environmental planners can use the light table for any drawing plans also.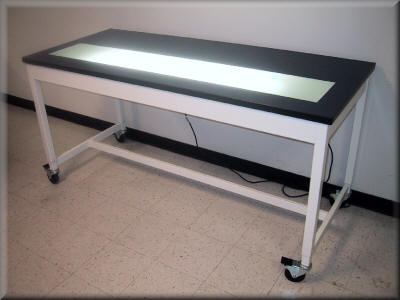 A Light Table for Laboratories
Not only a drafting light table, these are tables for use in scientific laboratories, for reviewing x-rays, in doctor offices, and more. An x-ray film is easily reviewed by a doctor or technician with the light table's clear helpful way to view any film placed on it. The tilt feature, makes this even easier. Objects placed on the light tables can be carefully examined on it's clear lit surface area. Scientists can find its uses helpful for lab work examinations. Technical parts that need examining can be carefully checked for quality and functionality for medical uses.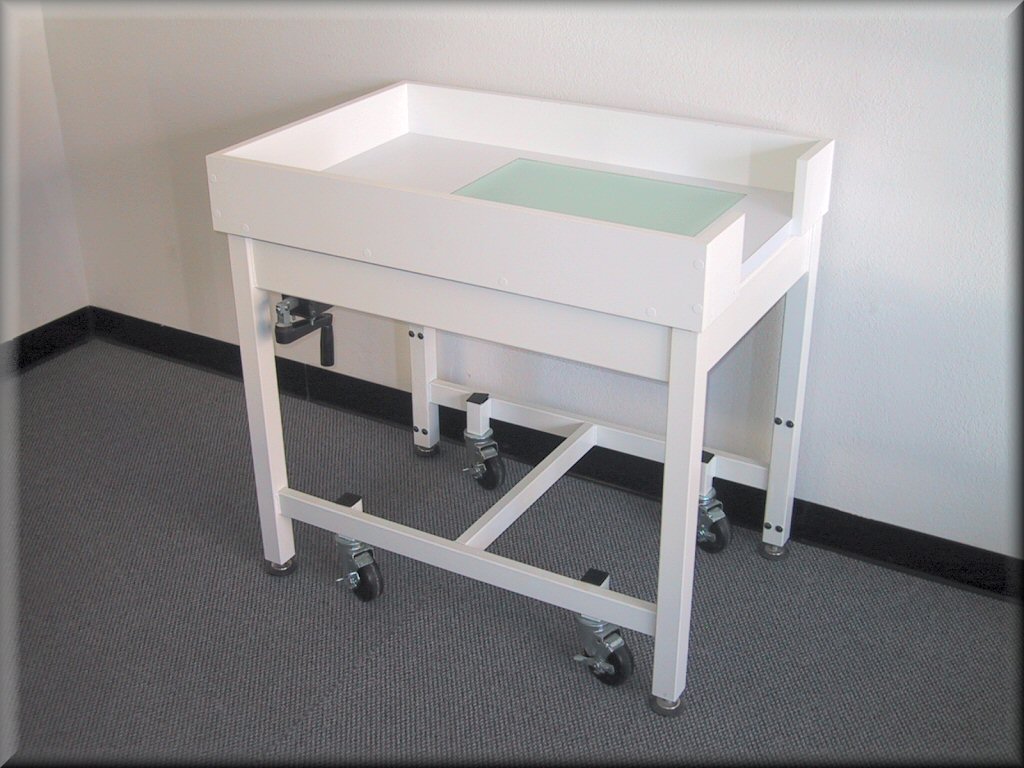 Manufacturers Examining Products
Employees can get work done simply and carefully. Mechanical parts for any business or manufacturer can be examined easily by employees that check parts and products for quality. A sturdy table with light is the best option for precise examination of products before they are sent out from a manufacturer to another business.
Artists Love Light…
Light tables that is. From classic animation drawing, storyboards, to film review for video and photography, these tables are ready to assist. Artists use these tables for simplifying their art needs. Tracing, sketching, designs, and many forms of art can be assisted by a light table. A drawing table that can be helpful for many artistic visions to get an art project done with much more ease.
Professional Light Table
Purchasing a professional table is the best option. When selecting a table with a light, it is important to know that it is high quality. Are the table's legs sturdy, is the surface flat and made of strong material, is it easily lit from the back light? These are some questions to check for a professional quality light table. Any work that is performed on these tables usually is of good quality, the table should be too. A professional light table is the way to go for any business.