Our Most Common Ergonomic & ADA Lift Table Styles
Factory-Direct / Industrial-Quality / Quality-Designed
Our Ergonomic Lift Tables are proudly manufactured in the USA
---
– Lift Systems are Available for Most RDM Table Styles – Select Options in STEP 2 of Table required – See our Main Workbench Page
---
– Images Below Also Link to Order / Quote Request Web Forms –
---
InfoSelect options

Table Model i-107P-BOOM-ESD – Static Control i-Frame Workbench w/ Overhead Boom
Showing all 28 results
---
Adjustable Height Tables for Greater Versatility and Flexibility
RDM offers a wide array of adjustable height table options, for different needs and purposes.  Ergonomic and ADA Table Solutions are our specialty.
For over 40 years, we have dedicated ourselves to providing users with the most efficient furniture pieces that will not only bring reliability, style and durability—but feasibility as well.
But why do we do this?
The answer is simple: because we know how important furniture pieces are. As it is, we want to make sure that our clients are able to get the needed furniture solutions that will actually help them out.
And take note: You can expect that same level of expertise and dedication when you get RDM's adjustable height tables.
So, do you want to know more? Please read on… Extra-Strength Components for Greater Durability
The materials composing your table will ultimately play a role on how durable it will be. Hence, it is important that you only choose tables that can deliver on such need.
Incidentally, RDM's adjustable tables are made of industrial strength materials, for greater durability. We also make sure that each table component has been fully connected together, in order to avoid unwanted hassles later on.
Different Table Designs to Choose From
Our adjustable height tables do not only bring durability, but usability as well. In fact, we have different table designs packed with various features—for added efficiency.
Here are some examples:
4-legged adjustable tables (for standard to heavy duty use)
Ergonomic Tables (ADA handicapped accessible)
Adjustable Stainless Steel Lift Tables
Handicap Accessible ADA Tables with Adjustable Height Work Surface
Adjustable Height Lift Tables w/ Full-Time Wheels or Casters
Adjustable Tables w/ Overhead Accessory Boom
Adjustable Stainless Steel Executive Desks
Many other table designs
One more thing: We also offer customized adjustable tables, most especially for those who want tables that can actually cater to special needs or requirements. Accordingly, all you need to do is just give us your specifications, and we'll be more than glad to help you out.
Efficient Tables for Various Purposes
If you're looking for a work table that can serve as efficient equipment stands, ADA handicapped accessible tables, microscope tables, multi-shift tables or for other specific purposes—don't hesitate to give RDM a call.
With our decades of experience in the field, you can reasonably expect us to be able to bring you that specific table that can make things a whole lot better for you.
So, do you need a manual hand crank table? How about an electric lift table? Or do you want a customized table with a hydraulic lift system? Are you looking for a table that can be used for light to heavy duty tasks?
Yes—we have them all for you.
Remember: You deserve tables that can actually provide you with what you need. Hence, don't just pick any table out of the blue. Only opt for adjustable height tables that have the features, materials and characteristics that can serve your purposes. And that's what RDM brings to the forefront.
Click Here for Blank Drawing Print & Fax to 408-945-8433
We also offer a wide range of material handling lifts…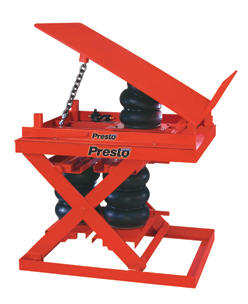 A Few More Sample Configurations of RDM Ergonomic Workstations…
– Many More Lift Table Styles Available –
Visit our Main 
Tables / Workstations
 Where you can Select a Specific Style of Table and add Lift Capability as an Option.
– Totally "Customizable" Workbench Manufacturer –