Factory – Direct Workbench / Table Manufacturer
See Table & Category Images Below…
Our Laboratory Workbenches & Tables are proudly manufactured in the
U
S
A
LAB TABLES  |  HYDRAULIC LIFT STATIONS  |  BALL TRANSFER  |  FLOW RACK TABLES
ESD STATIC CONTROL WORKSTATIONS  |  FUME HOOD UNITS  |  CUSTOM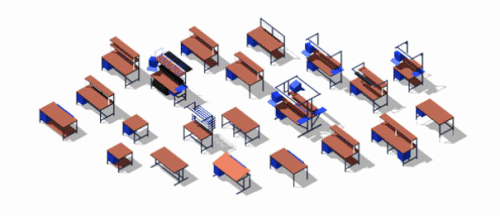 COMPUTER LAN WORKSTATIONS  |  EQUIPMENT RACK STATIONS  |  LAMINAR FLOW STATIONS
PACKAGING & SHIPPING  |  CLEANROOM TABLES  |  HEAVY-DUTY UNITS  |  ERGONOMIC TABLES
Custom Workbench Designs – NO PROBLEM !!
–  L E A N    M A N U F A C T U R I N G    S O L U T I O N S  –

– Images Below Also Link to Order / Quote Request Web Forms –
---
Text List : Workbenches / Industrial Table Styles
Machine & Equipment Tables
Manufacturing Tables
– CUSTOM Sizes & Styles are NO PROBLEM –
UNITS BY MODEL NUMBER
Showing 1–30 of 114 results
---
– High Quality Industrial Tables –

We understand how important work tables are. That is why we have made it a point to only provide tables that do not only have the needed features and qualities—but offer many other benefits as well.
We at RDM have always taken pride in providing people with the furniture solutions they need, at very reasonable rates.
Do you need high-quality industrial tables? Don't worry—we have top-of-the-line work tables that are designed to provide you with the advantages you need and want.
Please read on…
Materials:
Our tables are made of high grade industrial components, for added durability. RDM industrial work tables are typically made of stainless steel, seasoned wood and other durable components—in order to ensure that users get to efficiently use their tables for their respective purposes.
Note: Aside from using durable materials, you'll be happy to know that RDM follows strict construction and manufacturing standards. Our tables are fully welded together, in order to prevent breakage or loosing over time. Hence, if you get RDM tables—you can rest assured that you're actually getting tables that can last you for a very long time.
Different Options to Choose From:
We offer a wide array of industrial tables, depending on your requirements. We provide tables for light to heavy duty use, as well as table types with additional features—including but not limited to: chemical resistant tables, smooth surfaced light tables, adjustable tables, and many other related options.
Note: If you aren't sure of the type of table you need, give us a call. We also offer customized industrial work tables, in order to ensure that our clients get the specific features and designs that they truly want.
Dedication to Excellence:
With our over 37 years experience in the field, you can rest assured that we will continue providing excellent, high quality furniture pieces—at the right prices.
Our aim has and will always be about providing people with furniture solutions that actually help. In other words: If you get your furniture from RDM—you can rest assured that you are investing in something that is worth every buck. We guarantee that.
---
* Note:  OverStock Units are available in certain sizes. See our OVERSTOCK TABLES Page…
---
ALSO MANY CUSTOM SOLUTIONS…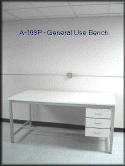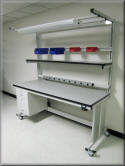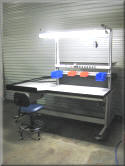 SIMPLE SOLUTIONS
>>>> TO >>>>
COMPLEX SOLUTIONS
---
A Few Notes to Our Customers:
Our workbenches are quality-constructed, utilizing
fully-welded frame connections, which means…
 Economy (Light-Duty) versions are available for
most industrial workbench models.
Not sure what style of industrial workbench you need ??
Try our

Suggested Workbench Options Chart

…
Also, please see our

Work Bench Photo Gallery

.
For Stainless Steel, please see our Stainless Steel Workbench Page.
N O    A S S E M B L Y    R E Q U I R E D . . .
Saving you time and money.
Serving a Variety of Applications:
Laboratory Furniture Solutions
Lean Manufacturing Solutions
Ball Transfer Tables & Tops
Chemical-Resistant Tables Surfaces for Labs, Schools, Etc.
Cleanroom WorkBenches –
(Up to Class 1 Electro polished Stainless Steel Tables)…
Computer & LAN / WAN Workstations
Ergonomic Tables with Manual or Hydraulic Lift
Shipping / Receiving WorkBenches, and also Packaging Stations
Static Control (ESD) WorkBenches for Semiconductor & Electronics
Vibration Control WorkBenches for Sensitive Measuring Equipment
** NOTE: You can describe your special needs on the ORDER / QUOTE WEB FORMS by clicking on the workbench / table images above…
(See Industrial workbenches standard models page for more detail)
Looking for Park Benches. Check this site for a wide variety of great Benches!