– Factory – Direct / Workbench Manufacturer –
Ergonomic Ball Transfer Workstations…
– Can be applied to most of our table styles (See STEP 2 on desired table)
———- Click HERE to visit our Main Workbench / Table Page ———-

Ball Transfer Tops are available as an option for all of our Table Styles
Custom Material Transport Solutions to Fit YOUR Needs….
Our transfer top tables can be used to help streamline your manufacturing and / or assembly line needs.
Please provide us with your product dimensions and weight, along with a diagram or general description of how you would like to organize the flow / handling of the product(s).  We will examine this information to provide you with the most cost-effective solution that will be tailored to your specific needs.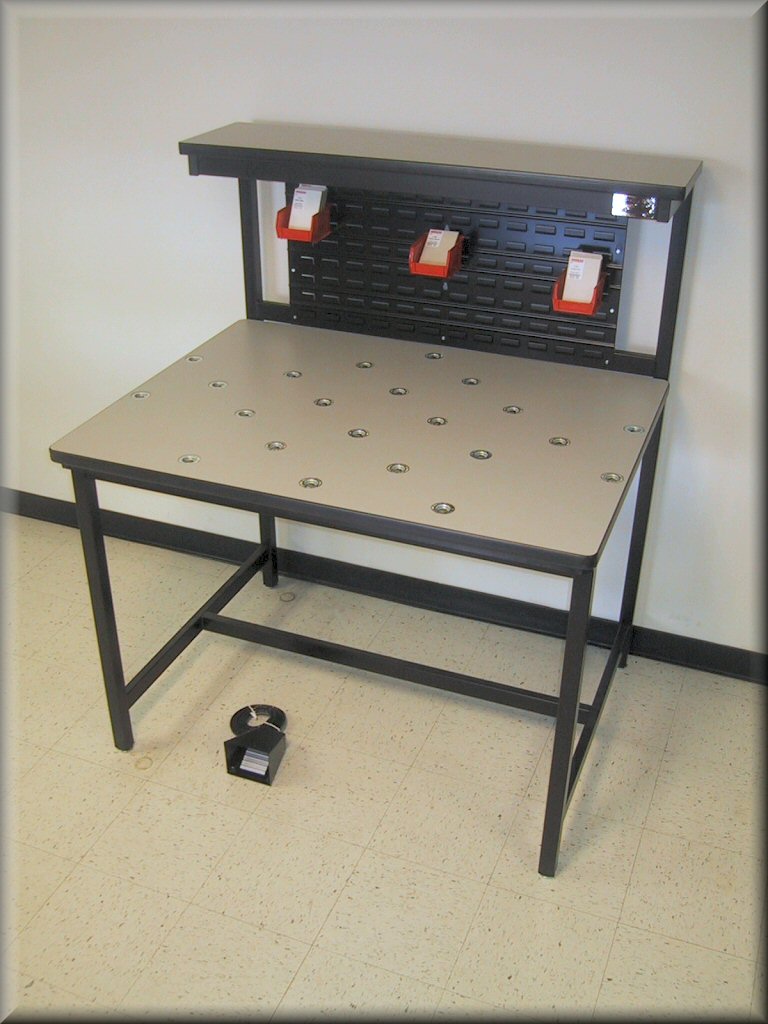 Pneumatic Pop-Up Ball System: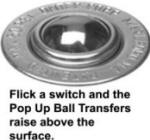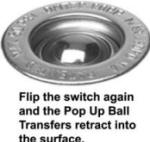 Features:
Used to integrate and facilitate efficient production, packaging, and shipping efforts.
Ergonomic pop-up ball transfers are used to effortlessly move objects onto and off of work surfaces.  The object may be oriented before it is firmly positioned on the work surface.  This allows speedier handling with less worker fatigue.
Sample BT-103 Ball Transfer Table Shown Above…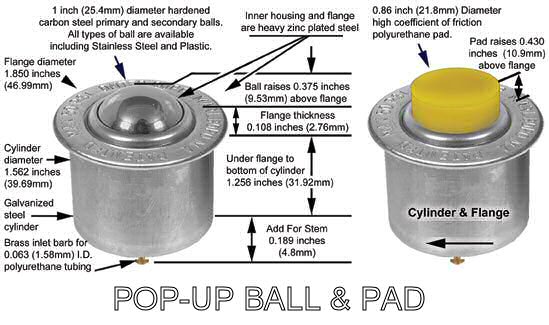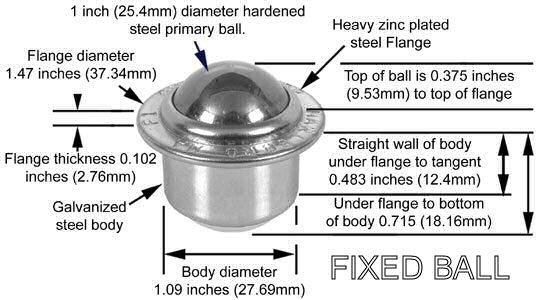 ---
Sample Assembly Line Configuration Using Combination Fixed Insert Rollers & Pneumatic Pop-up Ball System
(1) Product enters from left side and moves across a series of insert rollers located at the back side of work surface.  See illustration below…
(2) Notice the ability to queue product on the work surface between adjacent table tops.  Rollers are spaced according to size and weight of product.
(3) Pneumatic Pop-up ball transfers are raised by the operator, allowing the product to be moved forward.  System is activated with toggle switch or foot peddle or both.




(4) The product can be rotated while the pneumatic pop-up ball transfers are raised.  (Ideal for heavy products)
(5) Product is stopped by lowering the pop-up balls, allowing the operator to perform necessary task(s).
(6) The procedure is reversed to move the product along…
FILL INFORMATION BELOW & CLICK "…CART" BUTTON AT BOTTOM
NOTE: * = Required