Heavy duty industrial workbenches are gaining popularity in domestic and commercial applications. Many applications in industries involve regular use of workbenches; hence, their crucial role in the manufacturing process. For this reason, the need for long-lasting and durable tables cannot be over-emphasized. Since working with table-tops require constant movement, it is important to have tables that have adjustable heights. The following are some reasons why you needheight-adjustable tables:
Greater Durability
One reason you should resort to the use of height-adjustable workbenches is their ability to withstand operational rigors. The surfaces of these tables are made of materials that are resistant to chemicals and hot objects. Standard materials used in the manufacture of these tables include melamine and thick particle boards. Melamine shields the table from the corrosive effects of common industrial chemicals such as alcohol, organic solvents, and petrol. In essence, industrial tables can withstand regular use regardless of the weight of the objects placed on them and can last for a long time.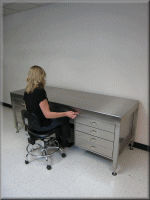 A Variety Of Designs
Adjustable height workbenches are not only durable but also come in a wide range to choose from. You can your selection from many designs and features depending on the nature of use. Moreover, you may also ask for customized tables for individual requirements, for example, those that can fit into small spaces. You will always find a design that fits your preferences.
Standard models available in the market include:
Adjustable height lift tables with casters or full-time wheels
Adjustable stainless steel lifts tables
Adjustable tables with overhead accessory boom
Ergonomic tables
Handicap accessible ADA tables
4-legged adjustable tables for both standard and heavy use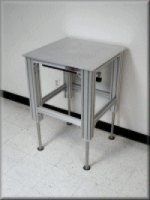 Heavyweight Capacity
Most industrial work tables can comfortably hold objects weighing up to 750kg. These tables will allow you to work with heavy parts and equipment without the risk of breakages. They are designed to withstand most heavy duty machines your employees are using every day. A maximum load of 750kg will afford you the opportunity to complete all your manufacturing activities without risks.
Efficiency
You will want to choose heavy duty industrial tables for their effectiveness. These tables have special features that make working with them easier and more reliable. Such features include electric lifts, hydraulic lift systems, and manual hand crank tables. You can choose one that has features you find suitable for your applications. You can also find workbenches that serve your special purposes that include multi-shift tables, ADA handicapped accessible tables and microscopic tables. When you go out in search of the best table for your workshop or garage, ensure it has the features that will make work easier for you.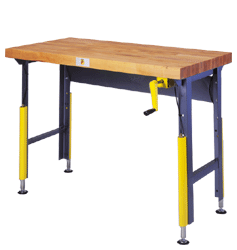 Ergonomic Design
Your workers spend most of the time working on or around tables. To prevent instances of strain-related injuries or accidents, you need to get adjustable height tables. The ergonomic designs of these tables is a key factor in the productivity of your company since you will be able to ensure the production process due to few occurrences of strain among your employees. Instead of your employees spending their day hunching or bending over the non-adjustable tables, give them adjustable benches which they can manipulate according to their heights or preferences.
In Conclusion
Current trends in the manufacturing world point towards the need for efficiency and increased productivity to beat the stifling competition in the sector. You can overcome this debilitating challenge by using heavy duty height adjustable workbenches for your production process. These tables are not only durable but also withstand great weights and are resistant to common manufacturing chemicals. They are; therefore, more long-standing than their standard counterparts.