Factory-Direct / Industrial-Quality / Quality-Designed
LABORATORY CARTS  |  HYDRAULIC LIFT CARTS  |  TRANSFER CARTS  |  UTILTY CARTS | ESD STATIC CONTROL CARTS  |  EQUIPMENT CARTS  |  CUSTOM CARTS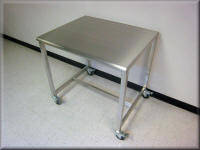 A-109P-SS-CASTERS
Stainless Steel Cart
(Available in Many Finishes)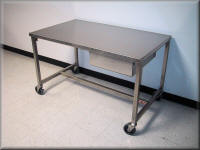 A-109P-SS-CASTERS-DWR
Mobile Table with Drawer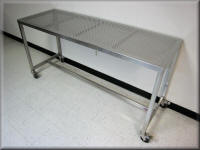 A-109P-SS-PERF-CASTERS
Stainless Steel Cart with Perforated Top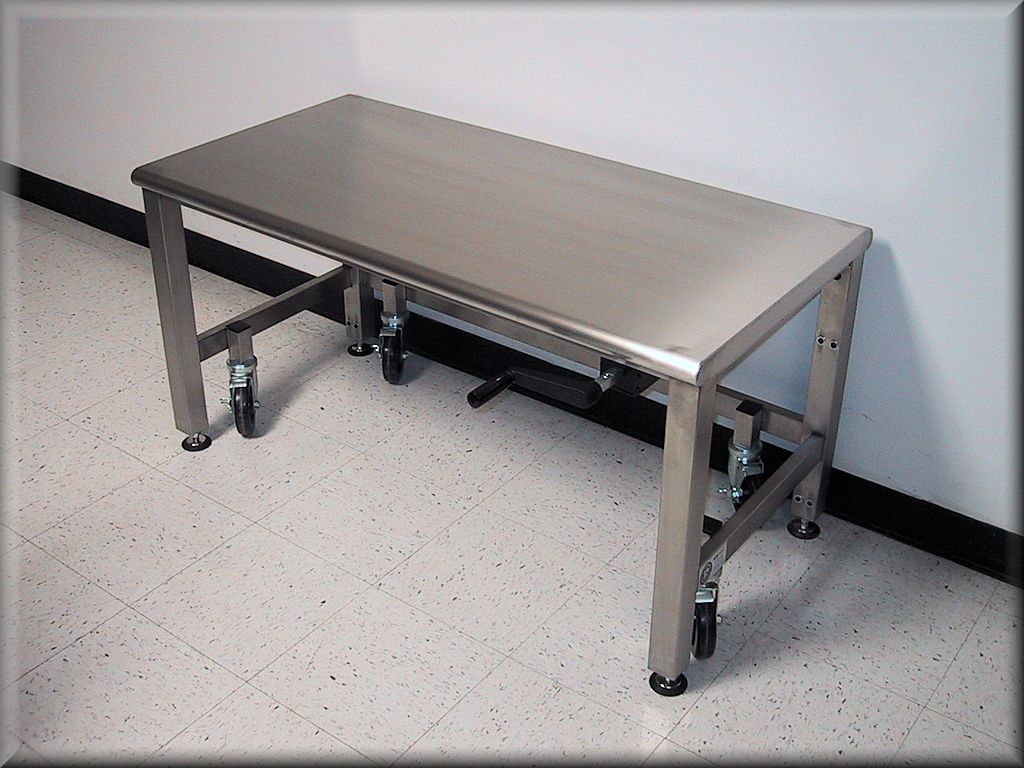 A-107P-SS-CASTERS
Adjustable Height Stainless Steel Cart – Mobile Table
(Stationary when Lowered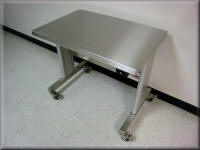 i-107P-SS-CASTERS
Adjustable Height Cart
Stainless Steel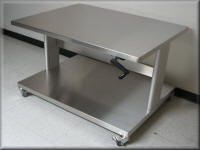 i-107P-SS-CASTERS-LWRSHLF
Adjustable Height Stainless Steel Cart with Full Lower Shelf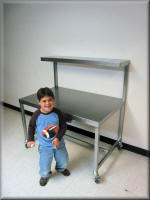 F-103P-SS-CASTERS
Mobile Tech Table
Stainless Steel
---
OPTIONAL ACCESSORIES:
---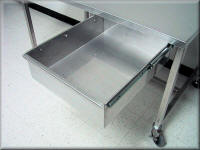 Stainless Steel Utility Drawer
Sliding Stainless Steel Drawers are avail. in Pencil, Utility and File Sizes
(Select as Option w/ Table)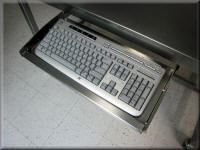 Stainless Steel Keyboard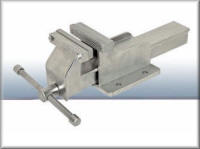 Stainless Steel Vise Units
304 Stainless Steel Bench Vise is great for cleanroom, food and beverage industry use.
(Select as Option w/ Table)
---
COMPUTER CARTS  |  INSTRUMENT CARTS  |  HEAVY-DUTY CARTSCOMPUTER CARTS  |  INSTRUMENT CARTS  |  HEAVY-DUTY CARTS | PACKAGING & SHIPPING CARTS  |  CLEANROOM CARTS  |  ERGONOMIC CARTS
Custom CART Designs – NO PROBLEM !!
Our Mobile Carts are proudly manufactured in the USA
---
---
Stainless Steel Carts
Stainless steel products provide myriad benefits, especially in laboratory and commercial settings. For starters, products made from stainless steel will be stain and corrosion resistant, making them an ideal purchase for medical facilities. In addition, stainless steel products are visually appealing and require little maintenance when compared to other products. They also have a very long "shelf life," making stainless steel a prudent investment.
RDM Industrial Products offers a variety of stainless steel carts that can be customized to suit your specific needs. Whether you need a basic cart, one with drawers or one with multiple layers, our experts can provide you with exactly what you need.
Click one of the images or product names to learn more about a particular selection, and contact us with any questions you may have.
---
Please fill in your contact information below and press the SUBMIT button below to forward your request to us…