Our Laminar Flow Workstations are proudly manufactured in the USA
Many Custom Designs & Sizes Available…
---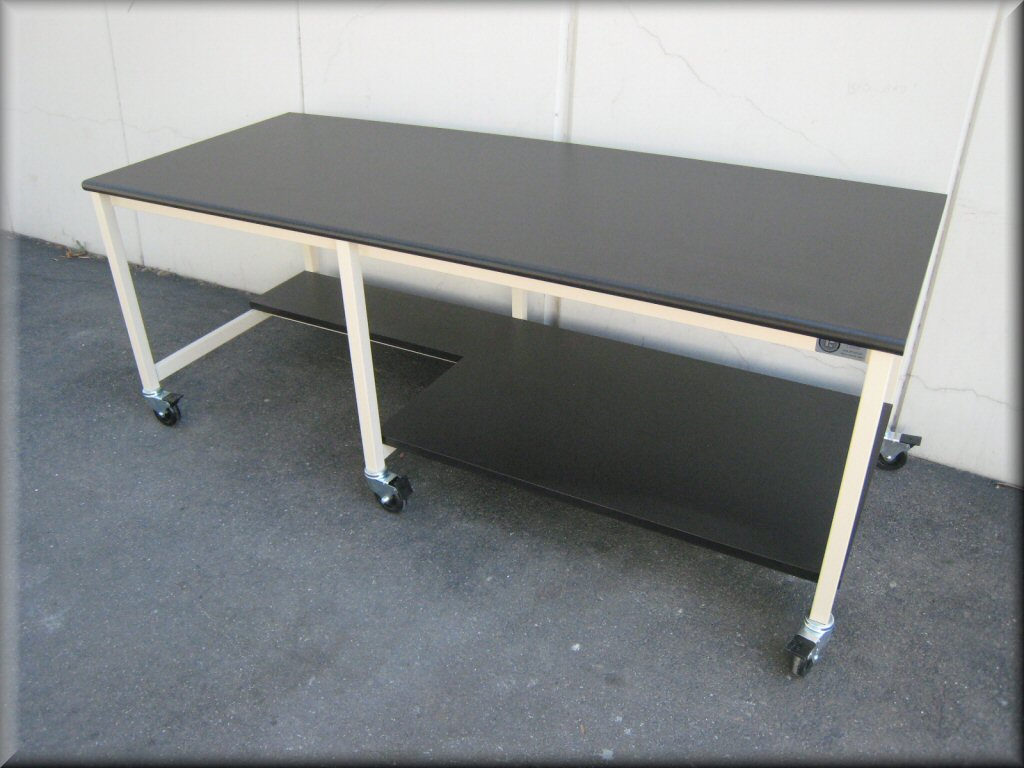 Model A-109P-CLG-CUST-01
Large Table with Center Legs, Custom Lower Shelf & Casters
TAKE ME THERE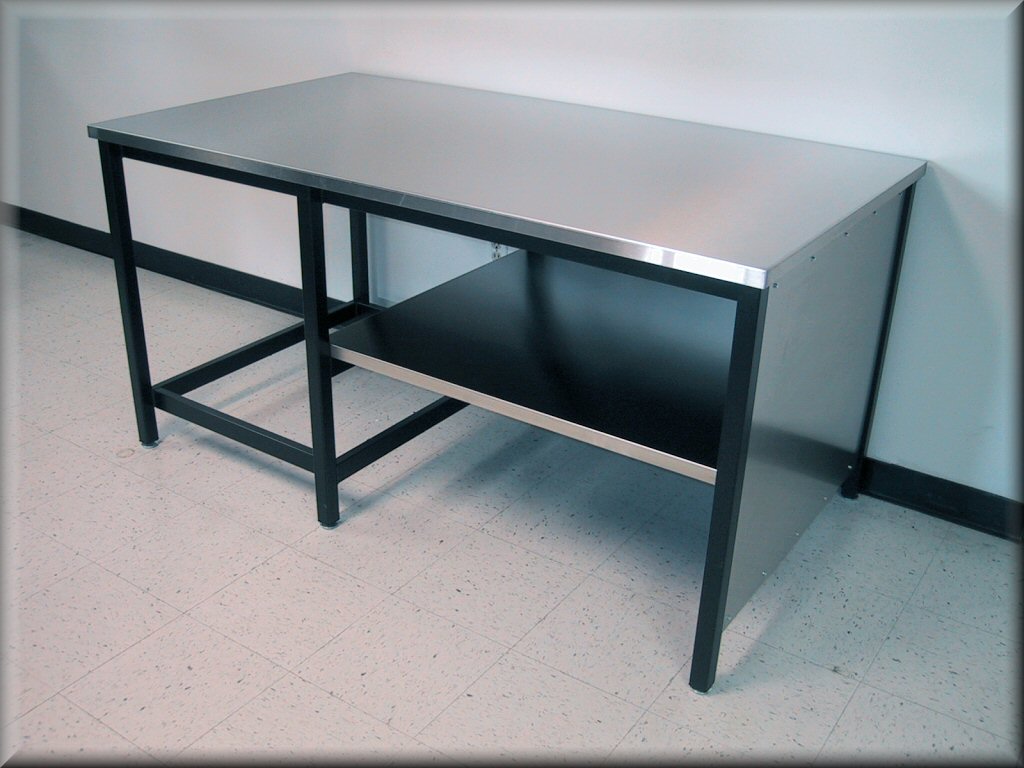 Model A-109P-CLG-CUST-02
Large Table with Center Legs, Custom Lower Shelf & Stainless Steel Tops
TAKE ME THERE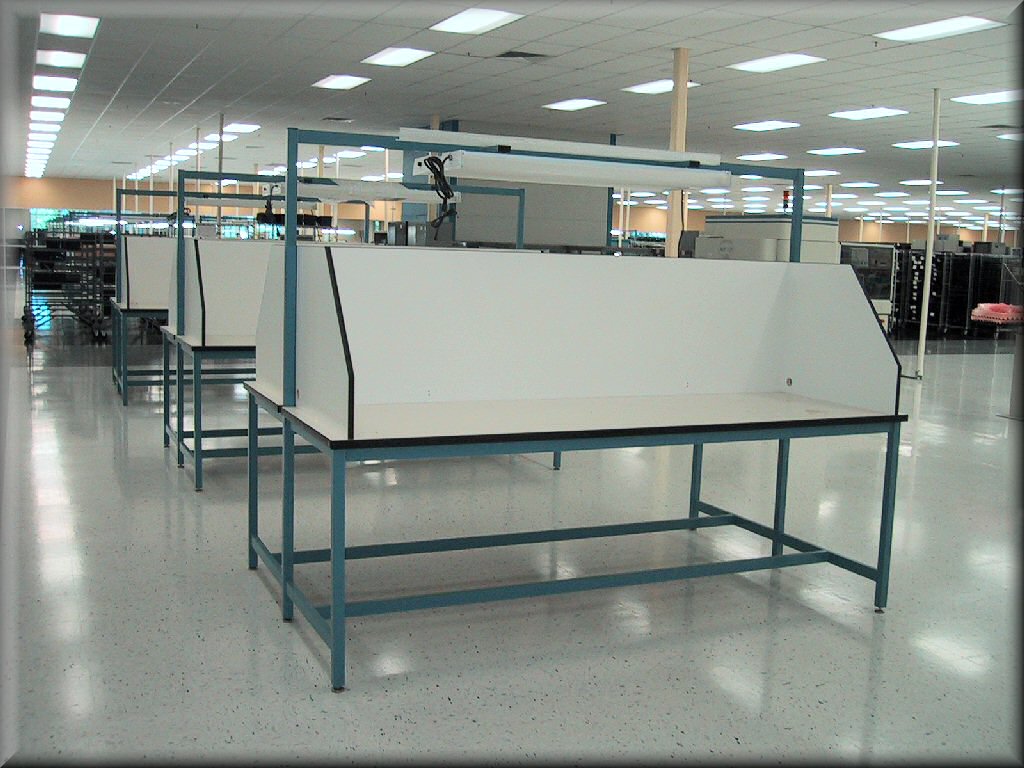 Model A-109PDL
Large Double-Sided Table with Privacy Partitions / Soldering Splatter Shields & Overhead Light Boom
TAKE ME THERE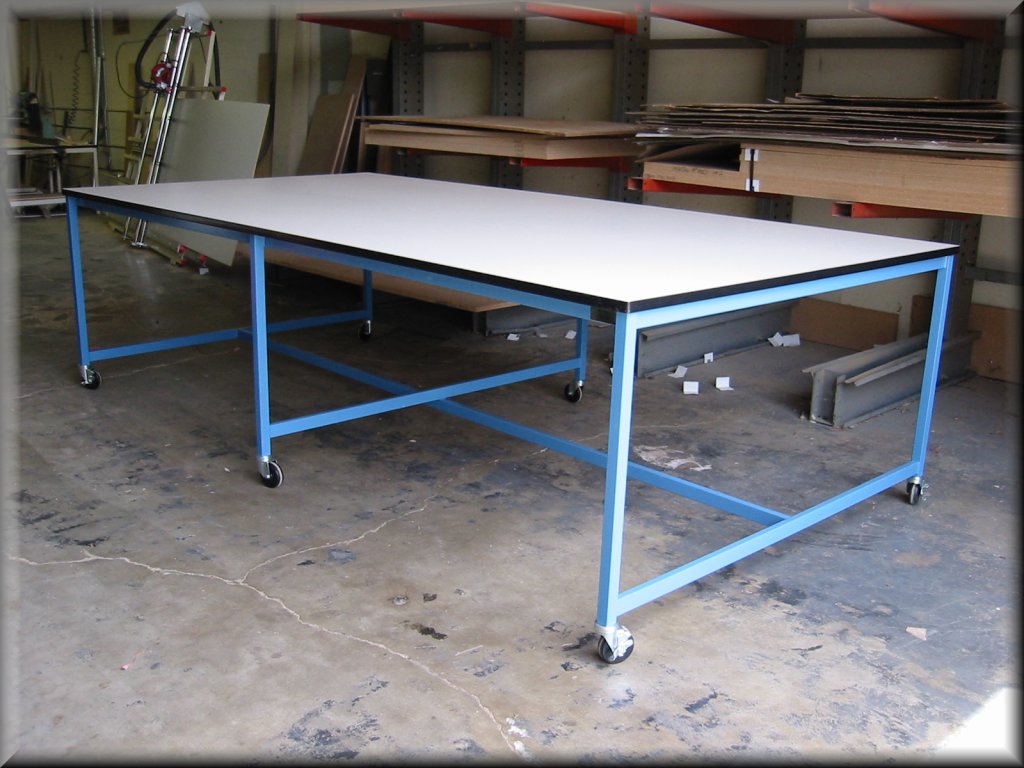 Model A-109P-CLG-01
RDM Large Table with Center Legs & Casters Oversized 6×12 Table
TAKE ME THERE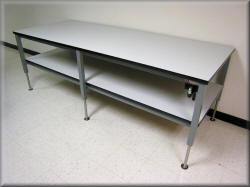 Model A-107P-CLG-LWRSHLF-01
Large Adjustable-Height Table with Full Lower Shelf.  Hydraulic Lift shown w/ Manual Hand Crank (Elec. Motor Optional)
TAKE ME THERE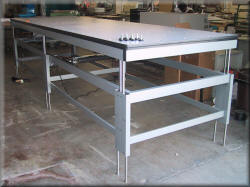 Model A-107P-CLG-DUAL-01
Large Adjustable-Height Table with Dual Stage Lift System for Extra Height
Standard Table Features…
Durable Wood or Steel Frame Construction w/ Lower Crossmember (Can be used as a footrest)
Standard Sizes:

We are the manufacturer – Feel free to specify your custom dimension requirements
above or choose from the following…
"A" – 48″, 60″ & 72″ Width (Right-to-Left)
"B" – 30″ & 36″ Depth (Front-to-Back)
"C" – 30″ (Sitting "Desk" Height), 34″ (ADA/Accessible Height), 36″ (Standing Tasks)

Heavy Duty, Fully-Welded Tubular Steel Frame Connections
See our Cleanroom Workbench Section for Electropolished Stainless Steel Tables…
Durable Tubular Steel Table Legs w/ Vibration Damping Leveler Feet or Casters.
Many Top Options to Choose From, Including Plastic Laminate, Chemical Resistant, ESD /
Static-Control, Solid Surface, Solid Wood (Butcher Block), Stainless Steel, and More…
This model is part of the RDM Industrial workbenches standard models.
RDM Industrial Products has been manufacturing large tables / oversized workbenches for over 30 years.  We offer a wide range of table styles and materials, tailored to meet your specific needs.  Our typical table construction consists of a polyurethane (just as durable as powder-coating when fully cured) or powder-coated (optional) fully welded steel frame with sealed laminated top(s).
Choose from any of the styles listed on our workbench main page by clicking here.
A Few More Large Table Samples:
– Totally "Customizable" –